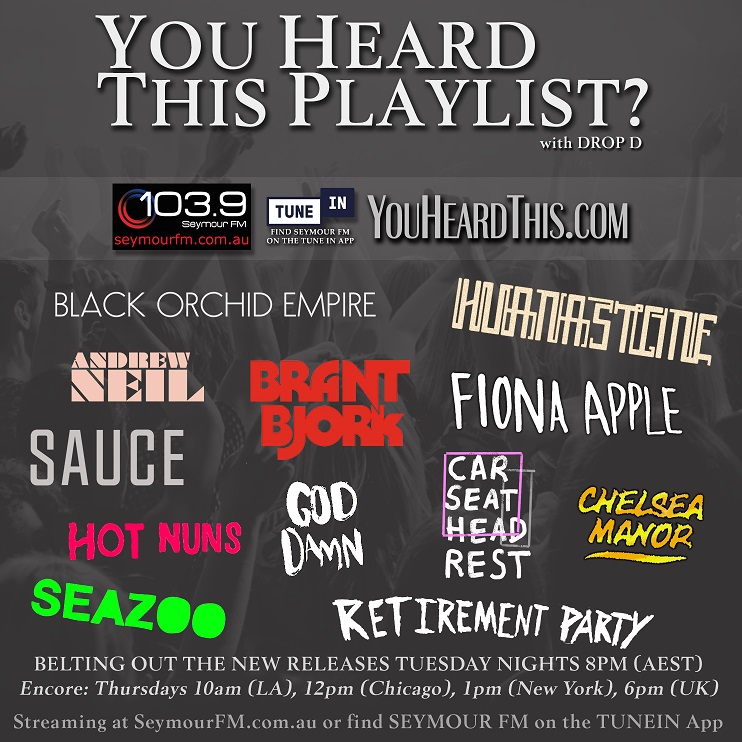 Hey y'all!
Drop D is back with another YOU HEARD THIS PLAYLIST? show bringing you a selection of New Releases from both Mainstream & Independent Rock Artists worldwide.
In this edited version of Show 02 for Podcast release, catch NEW tunes from Seazoo, Huanastone, Black Orchid Empire, Andrew Neil, Retirement Party, Chelsea Manor, Hot Nuns, & Sauce!
The only way you can catch this show IN FULL is to stream it via Seymour FM 103.9 EVERY TUESDAY NIGHT AT 8PM (AEST) AND EVERY THURSDAY (10am Los Angeles) / (12pm Chicago) / 1pm (New York) / 6pm (UK).
We also have a streaming TuneIn Player embedded on our official website at YouHeardThis.com
We hope all our listeners, followers and the artists around the world are keeping themselves safe during this unprecedented time surrounding the #Coronavirus!