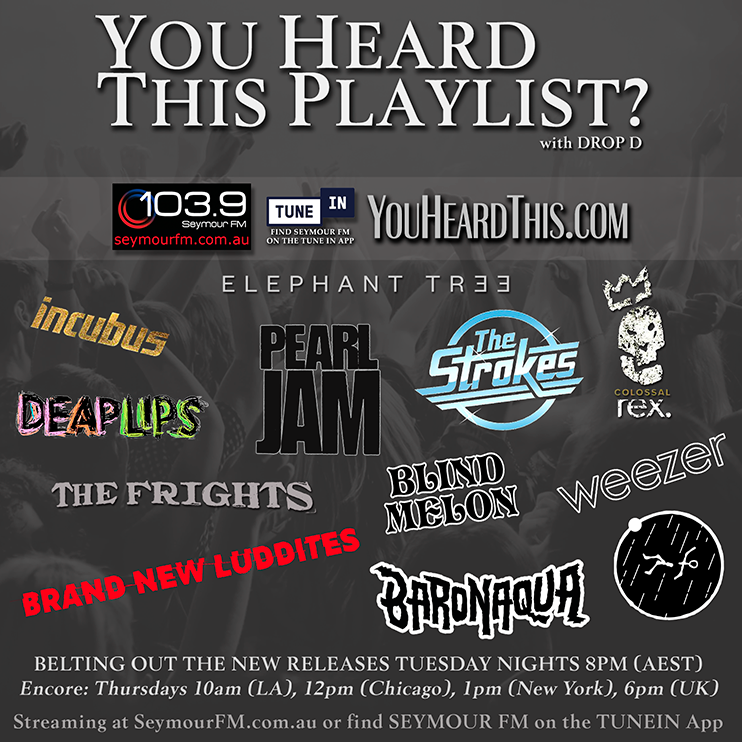 Hey y'all!
As mentioned earlier this week, there'll be no new YOU HEARD THIS ALBUM? shows for the foreseeable future until this pandemic is fully under control and we get some normality back in our lives :(
But don't despair!
Still need something to get you through those isolation blues?
Drop D has been piecing together a brand new show entitled YOU HEARD THIS PLAYLIST? which will play every Tuesday (Australia / New Zealand Audiences) & Thursday (USA & UK / Europe audiences) and will feature a selection of New Releases from both Mainstream & Independent Rock Artists worldwide. We also get to hear from some of the artists every week too!
In this edited version of Show 01 for Podcast release, DROP D brings you NEW tunes from Blind Melon, Colossal Rex, Elephant Tree, Baronaqua, Brand New Luddites & Between The Rain!
The only way you can catch this show IN FULL is to stream it via Seymour FM 103.9 EVERY TUESDAY NIGHT AT 8PM (AEST) AND THURSDAY (10am Los Angeles) / (12pm Chicago) / 1pm (New York) / 6pm (UK).
We also have a streaming TuneIn Player embedded on our official website at YouHeardThis.com
We hope all our listeners, followers and the artists around the world are keeping themselves safe during this unprecedented time surrounding the #Coronavirus!